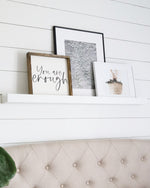 Photo Ledge Shelf
I was looking for a way to use up some of our small frames as well as mixing different styles in our home. I love wood and natural grains,  but i also am loving sleek modern lines. This was my way of blending the two as I refresh our guest-room for the spring and summer.
Step 1 | MEASURE + MATERIALs
Measure the space you want your ledge (or ledges) to be. Then, make a quick trip to your local hardware store or gather material you may have on hand. We used leftover pine wood that we had already!
You'll need:
 – a small can of wood stain or paint
– a drop cloth (or something you can get dirty)
– wood glue
– paintbrush or rag
– 2 clamps
– sandpaper (optional)
– a drill and screws to fasten ledge to wall
– wood (we pretty much always choose pine wood)
– you'll need three pieces of wood to build the ledge. Have your pieces of wood cut to the length you'd like your ledge to be.
Wood sizes:
– 1 inch depth x 2 inch width piece for the front 
– 1 inch depth x 3 inch width piece for the bottom 
– 1 inch depth x 2 1/2 inch width piece for the back (you will drill this into your wall)
Lowe's will typically cut your wood down for you if they don't have this in a pre cut size. If not, you can easily cut pine with a simple hand saw if you don't have an electric saw handy. 
OPTIONAL STEP | SANDING
Using a sheet of sandpaper, fine grit for smooth finishes, you can sand down any rough edges before staining. I recommend this step if this ledge will hang in your child's room.
Step 2 | STAIN or PAINT
Cover your wood in two coats of stain with a rag or paint them with a paint brush. I chose to paint ours, because they were leftover ad some were already painted. It made deciding that much easier.
Step 3 | GLUE
Apply wood glue to either side of your 1 x 3 inch piece (for the bottom of the ledge), and attach your front and back pieces to it. Have a rag on hand to catch any extra glue drips. 
Step 4 | CLAMP & DRY
Clamp your ledge together and allow the glue to set for a full 24 hours. We secured on side with brad nails, since i have a brad nailer on hand and there was warping to my board. 
Step 5 | FASTEN TO THE WALL
Attach your new ledge to the wall with a drill and screws, drilling straight into the "back" piece of your ledge. Use strong screws and, for best results, drill straight into a stud. This will ensure everything stays secure!
Now it's time for the best part! Style your shelf with things that are meaningful to you. I've learned that the artwork i love most in my home is meaningful-photos of frames and family, a quote that we love or art that inspires me.
Tag us (@blairmadeshop) or me (@abbywoerner) if you need help on creating your shelf!!